When one parent suggests hiring a doula (and it's the dad/partner more often than you think), one of the most common responses the other parent expresses is "Do we really need one?" Partners may feel like supporting the mom/birthing person is their job. The mom/birthing person may wonder if it's worth the money. These are just a few of the thoughts that may make some parents-to-be question whether hiring a birth doula is the right move. If you're teetering between yes and no, consider the following reasons why to hire a doula for your upcoming birth.
The benefits of doula support are evidence-based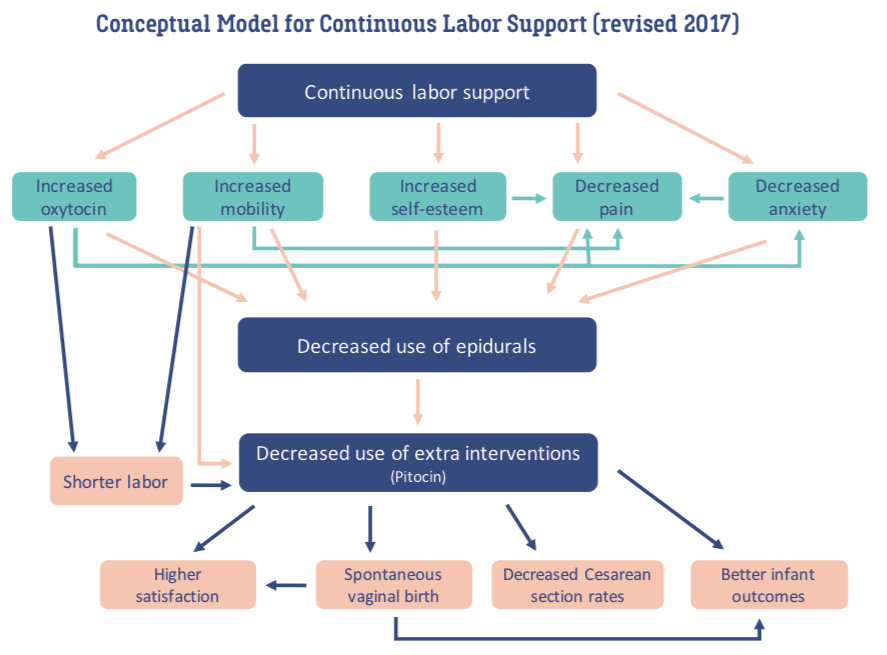 First and foremost, the benefits of doula support are not just based on an opinion and are actually backed by scientific evidence. As Evidence-Based Birth explains in their article on the evidence on doulas, the outcomes for birthing persons who have continuous support during labor and birth are significantly improved compared to those who do not. When comparing cesarean rates and rates of spontaneous vaginal birth, those who had support specifically from a doula showed the best outcomes (39% decreased risk of cesarean and 15% increase in spontaneous vaginal birth.
Extra help even before you transfer to your birthing place
If you plan on birthing in a hospital or birth center, then keep in mind that you likely won't experience your entire labor at your place of birth. In fact, in the absence of special circumstances, many birth facilities discourage patients from coming in until active labor (defined as dilated to 5 centimeters or more) or until contractions are just a few minutes apart. They may even send you home if you haven't "progressed enough" in order to keep beds open for parents who are farther along. If you should hire a doula, you will have their support while you are laboring at home. They can even help you navigate the decision of when to transfer to your birthplace.
Support for your partner
Contrary to what some people assume, a birth doula does not replace their client's partner. Doulas can actually provide valuable support to both the mom and their partner. This can look like reminding them both to eat, sleep, drink, and go to the bathroom regularly, something that sounds simple but can easily be forgotten during a powerful time such as labor and birth. The partner and doula can switch off doing hip squeezes, counter pressure, and other comfort measures to avoid either of them reaching exhaustion. Doulas also help to encourage bonding between the parents and provide tips and directions on how partners can support the birthing person. Plus, moms aren't the only ones who can benefit from words of affirmation, partners can as well!
Connect with trusted local resources & providers
From midwives and obstetricians to lactation consultants and pelvic floor specialists, there are a wide array of care providers who can support the best experience possible through pregnancy, birth, and beyond. Knowing where to start and who is reputable can be confusing. You may not even know how some of these providers can help you or when you should reach out to them. Your doula is someone you will speak with regularly and who can provide referrals to providers, support groups, and so much more. They will help you navigate this transformative time with confidence and calm. For instance, if you feel aching in your hip joints. You and your family members may brush it off as a normal symptom of pregnancy, but common is not normal. A doula knows that chiropractic adjustments can correct musculoskeletal misalignments and often ease this type of joint discomfort.
This is a once in a lifetime experience
Last, but certainly not least, the birth of a child is a transformative, powerful, and impactful experience that only happens once. You may have multiple children, but you will only birth this child once. The way a baby enters the world can affect the rest of their – and your – life. You deserve all of the support in the world to make this a positive, joyous experience.
You wouldn't be expected to plan, set up, decorate, and coordinate your own wedding all by yourself. No, there is a whole team of coordinators, decorators, photographers, DJs, servers, and bridesmaids who help weddings go off without a hitch. Just the same, you will benefit from a team to help you have the birth your desire. Think of your doula as your birth coordinator; they can present you with lists of provider recommendations (the vendors) so you can find the right ones for you, help you understand your options for selecting a birthplace (the venue) and provider (officiant), give suggestions for setting up your perfect birth space (decoration), squeeze your hips when your body surges (holding your gown up when you go to the bathroom), and when the big day comes they will remind you to breath deeply and to think about the beautiful baby that will soon be in your arms.
Ready to Hire a Birth Doula?
At Amazing Births & Beyond, we have a talented and passionate team of certified birth doulas. We have no doubt that any one of them would make the perfect addition to your birth team. Take a moment to get to know our doula team and call when you are ready to schedule a consultation and hire a doula. South Florida's most trusted birth support professionals are waiting to hear from you!